Food Packaging 
Packaging originally served as just a container, however, its role has evolved to have a multitude of functions. Whether it's made from glass, plastic, metal or paper, packaging protects the food from damage, spoilage, contamination, potential to extend shelf life and provides consumers with ingredient and nutritional info and also advertising. However, packaging must balance food protection with other factors such as energy and material costs and heightened social and environmental consciousness. The goal of food packaging is to contain food in a cost-effective way that satisfies industry requirements and consumer desires, maintains food safety, and minimises environmental impact. 
Why is sustainable food packaging important?
While disposable packaging has been an essential part of food supply chains, environmental problems related to packaging waste have grown exponentially during the last decades. Our reliance on fossil fuels and single-use plastics is having a negative impact, and sustainability is the greatest challenge in this day and age. Particular concerns surrounding plastics include their accumulation in the oceans and landfills, the generation of microplastics, and human exposure to toxins when chemicals in food packaging transfer to foods.
The growing consumer awareness and increasing regulatory requirements are putting pressure on FMCG and retailers to address sustainable packaging. Consumers widely equate eco-friendly and sustainable packaging to the source material, such as packages which are made of sustainable bioplastics and plant-based extracts, for example wheat, wood, and bamboo, that are biodegradable and reusable. However, the definition of sustainability continues to cause issues as often only one or two parameters are considered rather than the environmental costs throughout the package lifecycle.
Four Key Factors for Environmentally Friendly Packaging
Durability
Lightness
Renewability & Recyclability
Processability
Examples of Environmentally Friendly Packaging Materials
Recycled packaging
Using recycled materials in food packages means natural resources can be conserved, reduces the amount of waste in landfills and prevent pollution by reducing the need to collect raw materials.
Compostable packaging
Compostable means the material has the ability to naturally decompose back into the earth. The major benefits to the environment are that compostable packaging requires less carbon to produce, reduces the amount of waste sent to landfill and provides the earth with life-promoting nutrients. For example, Vegware are manufacturers of plant-based compostable foodservice packaging which make their products from plants using renewable, lower carbon and recycled or reclaimed materials. These products are designed to be commercially compostable with food waste.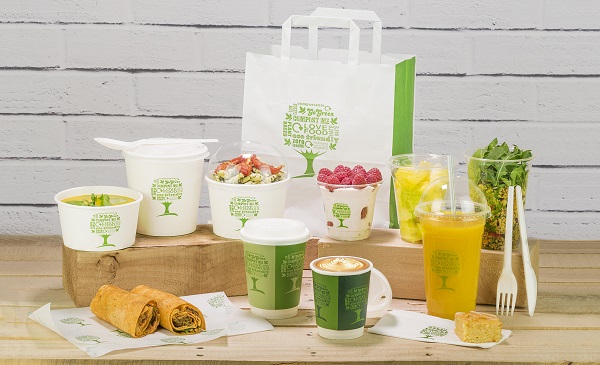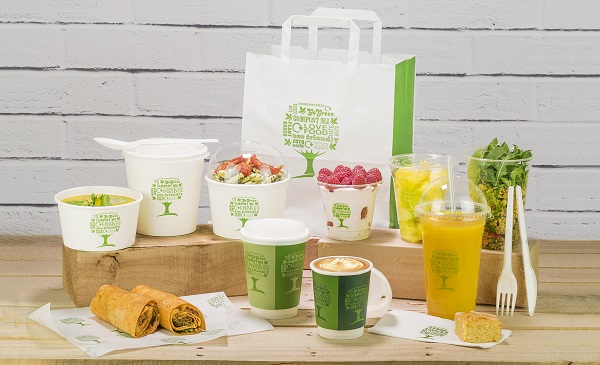 Strategies for food packaging sustainability
Not only are the source materials important for packaging sustainability, there are strategies and innovations which have been supported by EPA and other environmental organisations which address the demand and need for reduction of waste. Two examples include the strategy; Source Reduction and the innovation; SMART packaging. 
Source reduction
A strategy introduced to reduce the amount of food waste generated is Source reduction, which refers to changing the design, manufacture, purchase, or use of the original materials and products. EPA considers source reduction the best way to reduce the impact of solid waste on the environment because it avoids waste generation altogether. One way to achieve source reduction is through Lightweighting.
Lightweighting refers to the use of thinner packaging materials or reducing the amount used or using alternate materials. The use of less energy, and less material, to improve transport efficiency logically makes however if this is executed poorly then it can create as many issues as it solves. There's a limit to how much material can be removed for the pack to function as expected. For example, plastic bottles;
The majority of plastic bottles are recyclable however as if the bottle is made even lighter it may come to a point where economical to recycle and the energy required to process is no longer offset by what's recovered. There is also the risk of making packaging so light that it breaks or leaks, which is less sustainable in the long run and from a consumer perspective will erode brand trust.
To be effective in the future, lightweighting packaging needs to be carefully tested and executed perfectly to reduce the impact of usability challenges. Moving to ever more concentrated, or even removing water completely from products like detergents (to be rehydrated at home) offers us a step change in material savings as well as more efficient supply chains
EPA has introduced the concept of The Food Recovery Hierarchy. It prioritises actions organizations can take to prevent and divert wasted food. Each tier of the Food Recovery Hierarchy focuses on different management strategies for your wasted food. The top levels of the hierarchy are the best ways to prevent and divert wasted food because they create the most benefits for the environment, society and the economy. Here is the link to EPA website which details other strategies for sustainable management of food and see the graph below which outlines Source reduction as the most important strategy.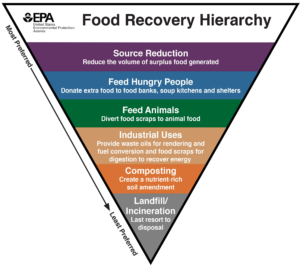 Innovative ideas for sustainable food packaging
The Kraft Heinz Company, are one example of FMCG which is focused on their company's sustainable packaging ambition with its goal to make all packaging globally recyclable, reusable, or compostable by 2025. It is also an innovation that the company says will help it to achieve net-zero greenhouse gas emissions by 2050.  They are partnering with Puplex to develop paper-based, renewable and recyclable bottles made from sustainably sourced wood pulp which plans to be used for Heinz Tomato Ketchup bottles and other packaging formats. Pulpex's current data indicates the carbon footprint of Pulpex bottles is materially less than glass and plastic on a bottle-by-bottle basis. Once empty, the bottles are also expected to be widely and readily recyclable in paper waste streams.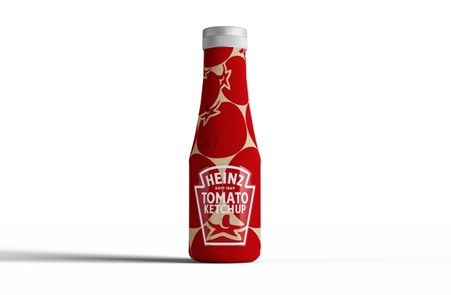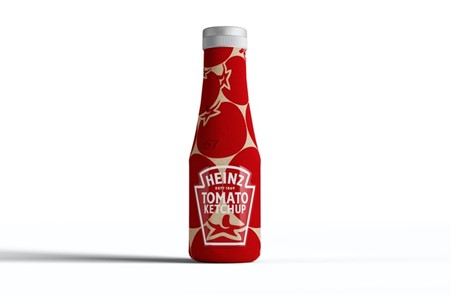 In the alcohol industry, brands are working to reduce their packaging footprints. One company currently focusing on this is, Ace + Freak, a UK based cocktail company, sell their offerings in aluminium cans. While the aluminium cans are recyclable, the labels printed can be a hurdle to recyclability. So a polypropylene label that can be removed and recycled separately as two separate raw materials is used on the Ace+Freak cans.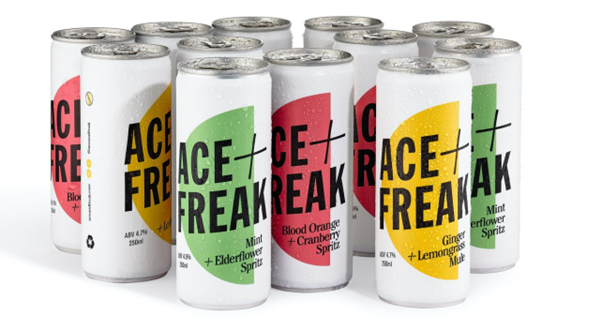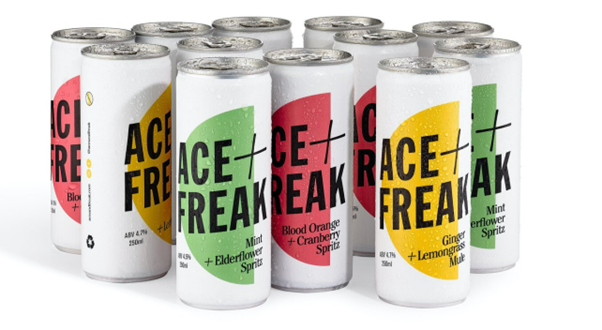 Smart packaging
The smart packaging sector was valued at USD 38.16 billion in 2020, and is expected to reach USD 48.72 billion by 2026  (Mordor Intelligence, 2020). Technology has been able to elevate basic packaging for smarter manufacturing, increased sustainability, boosted customer trust, streamlined supply chain, and data-driven results. Smart packaging benefits include increased traceability, improved evidence of quality standards, reduction of lab costs for quality control, connecting the food processor with the end customer.  Active packaging and intelligent packaging are two forms of smart packaging.
Intelligent packaging, can perform "intelligent" functions such as track the product, sense an attribute of the packaged food or its immediate environment (e.g., pH, temperature), and communicate it to the user (such as manufacturer or consumer). An example of intelligent packaging is Senoptica's sensor technology, follow this link to find out how this technology can increase operation efficiency and reduce food waste by non-destructively testing MAP packs.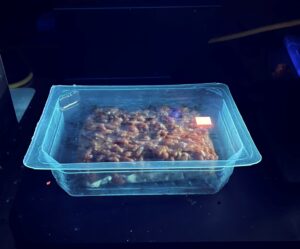 Challenges of sustainable food packaging
Sustainable packaging must have the same core functions as with the original packaging therefore there is a combination of challenges and complexities which go in parallel updating and changing packaging. There are challenges to switching to sustainable packaging:
Meeting consumer expectations
Optimising material performance to protect goods
Costs of sustainable packaging
Functionality vs Sustainability
The positive benefits of food packaging in terms of reduction in food waste must be assessed before its impact on the environment is considered. As food waste can be caused by inadequate storage and transportation, new innovative sustainable packaging must function as expected. Careful selection of packaging materials and technologies will ensure the product maintains quality and freshness throughout the supply chain.